Hello Armadas Exterior community! Today, we're diving into a topic that has been on the minds of some of our customers, particularly those with metal roofs – gutter installation. We recently had a conversation with a valued customer, Curt, about the challenges and considerations that come with this specific type of installation. We believe it's essential to share this information more broadly to help everyone understand the nuances of gutter installation on metal roofs.
The Challenge: Metal Roofs and Gutter Placement
Installing gutters on metal roofs involves unique challenges. When gutters are installed on a metal roof, there are specific guidelines that must be followed to ensure the gutters remain intact over time. One significant challenge is the limited space available for proper grading of gutters.
As you can see in the attached photos from a recent installation, the proximity of the metal roof leaves very little room to grade gutters toward the downspout without dropping the gutter below the fascia board. This poses a dilemma: raising the gutter flush with the roof could provide sufficient space for drainage, but it comes with a potential downside. In areas prone to heavy snowfall, this method might lead to snow accumulation pulling down the gutters, compromising their integrity.
A Solution: Snow Break Systems
To address this challenge, we propose the installation of a snow break system a couple of feet above the gutter line. This system effectively retains the majority of snow on the roof, allowing it to melt off gradually into the gutter. With this solution in place, we can safely raise the gutter while ensuring proper drainage.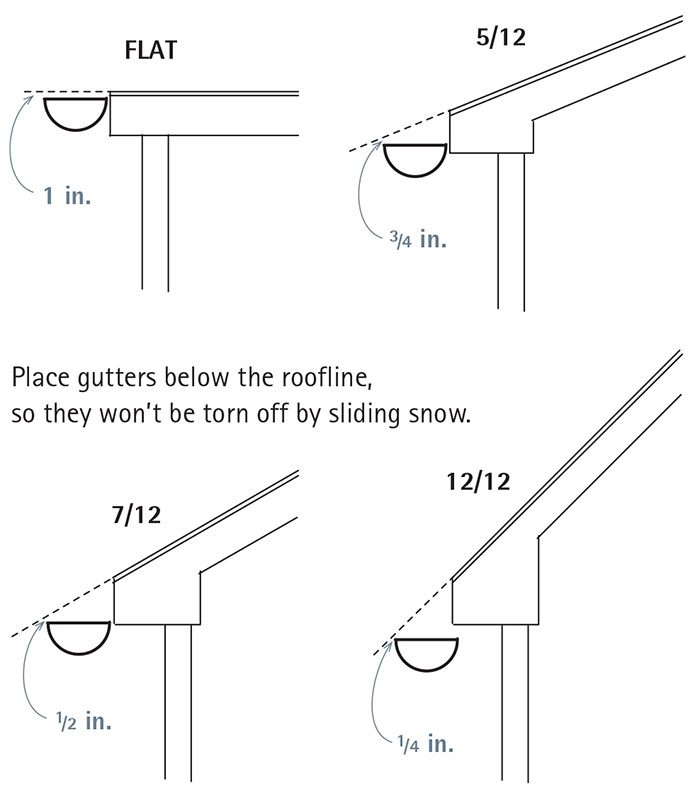 Installation Tips for Optimal Gutter Drainage
Sloping Guidelines: Ideally, gutters should slope down toward downspouts at a rate of 1 inch per 16 feet. While this may not always be visually ideal, a slight pitch—around 1⁄2 inch in 20 feet—ensures effective drainage.
Placement: The front lip of the gutters should be positioned below the roof plane to prevent snow from tearing them off. However, it should be high enough to prevent rain runoff from overshooting. The exact distance below the projected roof plane depends on the roof pitch, ranging from 3⁄4 inch to 1⁄4 inch.
Front Lip Height: The front lip of the gutter should always be approximately 1 inch lower than the back. This design prevents water from overflowing and damaging the fascia and siding.
We understand that these considerations might seem technical, but they are crucial for the long-term performance of your gutter system, especially when dealing with metal roofs. If you have any questions or concerns about gutter installations, feel free to reach out. We're here to ensure that your Armadas Exterior experience is not only about quality installations but also about understanding the intricacies that make your roofing system effective.
Thank you for being part of the Armadas Exterior community!